Analytical modelling and MDOF response considerations for semi-active tuned mass damper building systems subjected to earthquake excitation
(2009)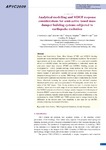 View/Open
Type of Content
Conference Contributions - Other
Publisher
University of Canterbury. Mechanical Engineering
Collections
Authors
Chase, J.G.,
Chey, M.H.,
MacRae, G.A.,
Carr, A.W.,
Rodgers, G.W.
show all
Abstract
Passive and Semi-Active Tuned Mass Damper (PTMD and SATMD) building systems can reduce structural response due to earthquake excitation. The structure's upper portion can be used either as a passive TMD, or as a semi-active resetable device in a SATMD system. The seismic performance of multi-story passive and semi-active tuned mass damper (PTMD and SATMD) building systems are investigated for 12-story moment resisting frames modeled as '10+2' stories and '8+4' stories. Segmented upper stories are isolated to act as the tuned mass. Passive viscous damper or semi-active resetable devices are evaluated using an energy dissipation strategy based on an optimal TMD design stiffness and damping value. The semi-active approach uses feedback control to alter or manipulate the reaction forces, effectively re-tuning the system depending on the structural response. Statistical performance metrics are presented for 30 earthquake records from the 3 suites of the SAC project. Time history analyses are used to compute response reduction factors across a wide range of seismic hazard intensities. Results show that SATMD systems can effectively manage seismic response for multi-degree-of freedom (MDOF) systems across a broader range of ground motions in comparison to passive solutions. Specific results include the identification of differences in the mechanisms by which SATMD and PTMD systems remove energy, based on the differences in the devices used. Less variability is also seen for the SATMD systems, indicating an increased robustness.
Citation
Chase, J.G., Chey, M.H., MacRae, G.A., Carr, A.W., Rodgers, G.W. (2009) Analytical modelling and MDOF response considerations for semi-active tuned mass damper building systems subjected to earthquake excitation. Christchurch, New Zealand: 13th Asia-Pacific Vibrations Conference, 22-25 Nov 2009.
This citation is automatically generated and may be unreliable. Use as a guide only.
Keywords
semi-active; TMD; segmented structures; seismic response