Seismic Response Reduction of a 12-storey Reinforced Concrete Structure Using Semi-active Resettable Devices
(2009)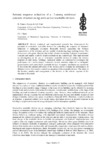 Type of Content
Conference Contributions - Published
Publisher
University of Canterbury. Civil and Natural Resources Engineering
University of Canterbury. Mechanical Engineering
Collections
Authors
Franco-Anaya, R.,
Carr, A.J.,
Chase, J.G.
show all
Abstract
Recent analytical and experimental research has demonstrated the potential of semi-active resettable devices for controlling the response of structures subjected to earthquake excitation. Resettable devices manipulate the stiffness characteristics of the structure and are capable of producing large resisting forces. The devices also offer great reliability due to their reliance on standard hydraulic or pneumatic concepts and employ relatively simple mechanisms and control logic. This paper presents an investigation on the use of semi-active resettable devices to reduce the seismic response of multi-storey buildings. Analytical studies are conducted to investigate the performance of a twelve-storey reinforced concrete structure subjected to earthquake ground motion and controlled by resettable devices. Computer simulations are carried out to determine the optimal utilisation of the devices and to evaluate the performance of different control laws used to control the operation of the resettable devices. The effect of the location, number and arrangement of the devices on the seismic response of the structure is discussed.
Citation
Franco-Anaya, R., Carr, A.J., Chase, J.G. (2009) Seismic Response Reduction of a 12-storey Reinforced Concrete Structure Using Semi-active Resettable Devices. Christchurch, New Zealand: New Zealand Society of Earthquake Engineering Annual Conference (NZSEE), 3-5 Apr 2009.
This citation is automatically generated and may be unreliable. Use as a guide only.