A Proposed Smart Market for Impervious Cover Runoff under Rainfall Uncertainty
(2009)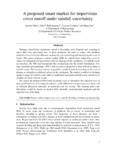 Type of Content
Conference Contributions - Published
Publisher
University of Canterbury. Civil and Natural Resources Engineering
University of Canterbury. Management
Collections
Authors
Pinto, A.,
Raffensperger, J.F.,
Cochrane, T.,
Dye, S.
show all
Abstract
Damage caused from stormwater runoff is becoming more frequent and occurring in places that were previously free of these problems. In order to reduce this problem, authorities have looked at different mechanisms for controlling and minimising the costs of floods. This paper proposes a smart market (SM) for runoff from impervious cover to reduce the mitigation and prevention costs for damages in the catchment. As rainfall events are uncertain, the SM must incorporate this stochasticity into the model formulation. Two stage stochastic programming (TSSP) with recourse is proposed to deal with uncertainty of rainfall events. The recourse actions or penalties would be priced according to the cost of damage or mitigation at different places in the catchment. The market would allow hedging against a range of rainfall events until an established maximum rainfall event, and above it, penalties for more extreme events. We expect the proposed SM would encourage users to internalize the expected costs of their runoff and cost of flooding. In addition, as the SM reduces transaction costs, there will be efficient allocation outcomes at minimum cost for society. The clearing prices and allocations would be based on auction bids, desirable environmental standards and the expected cost of flooding.
Citation
Pinto, A., Raffensperger, J.F., Cochrane, T., Dye, S. (2009) A Proposed Smart Market for Impervious Cover Runoff under Rainfall Uncertainty. University of Canterbury, Christchurch, New Zealand: 44th Annual ORSNZ Conference, 3-4 Dec 2009. Operations Research Society of New Zealand: Proceedings of the 44th Annual Conference, 190-199.
This citation is automatically generated and may be unreliable. Use as a guide only.
Keywords
smart market; impervious cover; runoff; flooding; stochastic programming