Students' perceptions' of reading : an investigation into the perceptions of reading by underachieving year five and six students in a low decile New Zealand primary school.
(2007)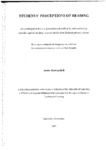 View/Open
Type of Content
Theses / Dissertations
Thesis Discipline
Education
Degree Name
Master of Teaching and Learning
Publisher
University of Canterbury. School of Literacies and Arts in Education
Collections
Abstract
Numerous educational researchers have stressed the importance of children learning to read. Achieving well in the New Zealand educational system depends on a range of factors that are closely linked to the ability to read effectively. Research has found that children who experience difficulties in learning to read in the first years of schooling often face failure throughout their school years and in adulthood. This in turn can restrict job opportunities and make it more difficult to participate or benefit economically in society. The aim of this study was to explore the perceptions of reading by underachieving Year five and six students in a low decile New Zealand Primary School. The study sought to understand what supports or barriers these students' encountered in their acquisition of reading skills and how their views may inform current school and home practices for more effective literacy learning. The data gathered was shared with one of the participant's parents. Little has yet been reported on this topic from the point of view of the learner. This study was designed to hear their views and to see what they saw as important in learning to read. The researcher used semi-structured focus group interviews to determine the children's perceptions about how they learned to read. Learning to read is complex and a child's understanding of how they learn to read is also multifaceted. The study concluded that children viewed their parents or whanau as very influential in their achievement in learning to read. The views expressed by the children and the parents reinforced the importance of the home environment's relationship with the school. Parents play an integral in the fostering of children's literacy development. It is important that parents are aware of the critical role they play in their child's education because as the study found children learn to read more effectively with the support of their whanau.
Teachers also playa vital role in recognising the importance of reading and preparing all students no matter what their proficiency for literacy learning. It is the day to day work of educators that ensures the majority of children will learn to read. The participants in this study did not appear to understand that they were working below their expected levels in reading. They were aware of some of the factors that were necessary in learning to read but these had not been explicit. Teachers need to share this information with students. Students need to be taught the skills and explicit strategies that allow and encourage them to persevere, succeed and take control of their own learning to read.
Rights
Copyright Janice Raewyn Bell
Related items
Showing items related by title, author, creator and subject.
Harris, Christine Ellen

(

University of Canterbury. School of Educational Studies and Human Development

,

2009

)

Despite high achievement by many Māori (indigenous people of Aotearoa New Zealand) students there is still a disparity between the achievements of Māori students and Non Māori students in the New Zealand educational ...

Alazrak, Khadra Abdelsalam Mohamed

(

University of Canterbury

,

2021

)

This study addressed the perceptions and experiences of Arabic-speaking ten to thirteen year-old students in New Zealand primary schools, and the teachers of these students in reading English as a second language (ESL). ...

Allison, Judy

(

University of Canterbury. School of Educational Studies and Human Development

,

2008

)

This project examined one teacher's perception of the usefulness of the Reintegration Readiness Scale (RRS) to assess and monitor the social and emotional competence of a Year 1 student in a New Zealand primary school. ...