Expressive and Instrumental Voting: The Scylla and Charybdis of Constitutional Political Economy
(2004)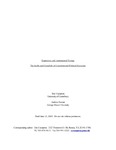 View/Open
Type of Content
Journal Article
Publisher
University of Canterbury. Economics.
ISSN
1043-4062
Collections
Authors
Crampton, E.,
Farrant, A.
show all
Abstract
Brennan and Hamlin [(2002) Constitutional Political Economy 13(4): 299-311] noted that expressive voting still holds at the constitutional phase. The argument, when taken to its necessary conclusion, proves quite problematic for Constitutional Political Economy. Veil mechanisms following Buchanan induce expressive voting at the constitutional phase, removing the normative benefits ascribed to the hypothetical unanimity principle. If the constitution is authored by a small group and the veil is thereby removed, instrumental considerations come to bear and the authors of the constitution establish themselves as Oligarch.
Citation
Crampton, E., Farrant, A. (2004) Expressive and Instrumental Voting: The Scylla and Charybdis of Constitutional Political Economy. Constitutional Political Economy, 15(1), pp. 77-88.
This citation is automatically generated and may be unreliable. Use as a guide only.
Keywords
voting; political theory; constitutions