Comparison of Identification Methods of a Time-varying Insulin Sensitivity Parameter in a Simulation Model of Glucose Metabolism in the Critically Ill
(2009)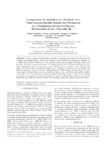 View/Open
Type of Content
Conference Contributions - Published
Publisher
University of Canterbury. Mechanical Engineering
ISBN
978-3-902661-49-4
Collections
Authors
Pielmeier, U.,
Andreassen, S.,
Nielsen, B.S.,
Hann, C.E.,
Chase, J.G.,
Haure, P.
show all
Abstract
Models of glucose metabolism can help to simulate and predict the blood glucose response in hyperglycaemic, critically ill patients. Model prediction performance depends on a su ciently accurate estimation of the patient's time-varying insulin sensitivity. The work presents three least squares approaches, the integral method and a Bayesian method that have been compared by prediction accuracy on an absolute and on a relative scale. Clinical data yields 1491 blood glucose predictions based on 10 critically ill patients were processed. The Bayesian approach proved to be best with small errors (9:7% absolute percent error, 14:7 root mean square of logarithmic error for prediction times 2h), and fewer and smaller outliers compared to the other methods. Computationally, the Bayesian method took 1.5 times longer per prediction compared to the fastest method. It can be concluded that a Bayesian parameter estimation gives safe and e ective results for the insulin sensitivity estimation for this model.
Citation
Pielmeier, U., Andreassen, S., Nielsen, B.S., Hann, C.E., Chase, J.G., Haure, P. (2009) Comparison of Identification Methods of a Time-varying Insulin Sensitivity Parameter in a Simulation Model of Glucose Metabolism in the Critically Ill. Aalborg, Denmark: 6th IFAC Symposium on Modeling and Control in Biomedical Systems (MCBMS09), 12-14 Aug 2009. 7, 1, 6pp.
This citation is automatically generated and may be unreliable. Use as a guide only.
Keywords
insulin sensitivity; parameter identification methods; hyperglycaemia; critical care; metabolic modelling; glucose control