Structural reassignment of an "unusual" derivative of 3-methyl-5-phenylpyrazol-5-one (Edaravone)
(2006)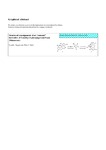 View/Open
Type of Content
Journal Article
Publisher
University of Canterbury. Chemistry.
ISSN
0040-4039
Collections
Authors
Burgess, J.,
Steel, P.J.
show all
Abstract
The structure of the major product from the reaction of 4-bromo-3-methyl-1-phenylpyrazol-5-one (1) with ethyl cyanoacetate is shown, by means of an X-ray crystal structure determination, to be the spirocyclic compound 4, rather than the previously proposed isomer 3.
Citation
Burgess, J., Steel, P.J. (2006) Structural reassignment of an "unusual" derivative of 3-methyl-5-phenylpyrazol-5-one (Edaravone). Tetrahedron Letters, 47(25), pp. 4107-4108.
This citation is automatically generated and may be unreliable. Use as a guide only.
Keywords
pyrazolone; spiro compound; crystal structure