Centrosymmetric and Non-centrosymmetric Packing of Aligned Molecular Fibres in the Solid State Self Assemblies of Cyclodextrin-based Rotaxanes
(2006)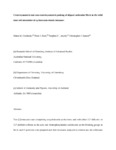 View/Open
Type of Content
Journal Article
Publisher
University of Canterbury. Chemistry.
ISSN
1061-0278
1029-0478
Collections
Authors
Cieslinski, M.M.,
Steel, P.J.,
Lincoln, S.F.,
Easton, C.J.
show all
Abstract
Two [2]-rotaxanes each comprising -cyclodextrin as the rotor, and with either 3,3'-difluoro- or 3,3'-dichloro-stilbene as the axle and trinitrophenylamino substituents as the blocking groups at the 4- and 4'-positions, were prepared and their structures analyzed in solution and the solid state using 1H NMR spectroscopy and X-ray crystallography, respectively. With each rotaxane, in solution the stilbene rotates freely within the cyclodextrin annulus. In the solid state the 3,3'-dichlorostilbene-based rotaxane adopts two very similar conformations, each having the chlorines in the anti,anti-orientation. By comparison, the 3,3'-difluorostilbene-based rotaxane adopts anti,anti-, anti,syn- and syn,syn-orientations of the substituents. The crystal packing of each rotaxane displays aligned molecular fibers, which are centrosymmetrically orientated in the case of the difluoride due to the head-to-head/tail-to-tail alignment of the cyclodextrins. By contrast, all of the cyclodextrins in the dichloride are aligned head-to-tail along a single axis to give a polar, non-centrosymmetric crystal.
Citation
Cieslinski, M.M., Steel, P.J., Lincoln, S.F., Easton, C.J. (2006) Centrosymmetric and Non-centrosymmetric Packing of Aligned Molecular Fibres in the Solid State Self Assemblies of Cyclodextrin-based Rotaxanes. Supramolecular Chemistry, 18(6), pp. 529-536.
This citation is automatically generated and may be unreliable. Use as a guide only.
Keywords
Rotaxanes; Cyclodextrins; Crystallography; NMR spectroscopy; Self assembly