Stories and gaps : a study of narrative, discourse and musical awareness in a group of year six children's responses to music.
(2006)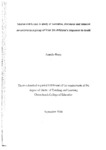 View/Open
Type of Content
Theses / Dissertations
Thesis Discipline
Education
Degree Name
Master of Teaching and Learning
Publisher
University of Canterbury. School of Educational Studies and Human Development
Collections
Abstract
Music educators in the classroom aim to expose students to a variety of styles and genre of music through active listening. Engaging children in listening to music that is unfamiliar to them is problematic. This study sets out to explore what Year Six children respond to in the music they prefer and how this compares to their responses to examples of 'classical' music in an effort to find areas of commonality and transferability. A constructivist perspective underpins this study. In examining the children's responses to music in their own words, their understandings about music and how it shapes their lives becomes evident. Case study is used to examine the listening responses of Year Six children. Children express in their own terms what they listen to and for within music: music of their own choice, and then "classical" music. They share their expectations and give examples of "good" music. The findings that emerge from this study fall into two broad themes: those relating to children's choices, and those that relate to the nature and importance of the discourses about listening to music within the educational setting. These findings have a number of implications. Firstly, they indicate the importance of "stories" the children gained from the music listened to. Secondly, they suggest the significance of the relationship children form with music. Thirdly, they mark the importance of an awareness of the different perspectives and cultural settings from which music listening and appreciation is viewed. This study focuses on Year Six children's responses to and relationships with music. However, while it examines a single aspect of music education at this level, the implications may be explored within other levels and curriculum areas.
Rights
Copyright Jennifer Barry