A Tale of Two Europe's: European Regions from Berlin to Lisbon
(2009)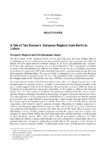 View/Open
Type of Content
Conference Contributions - Published
Publisher
University of Canterbury. School of Law
Collections
Abstract
The development of the European Union over the past fifty years has been nothing short of revolutionary, as the role of the nation-state has altered to adjust to a new supra-national reality.1 In tandem with this supra-national revolution changes at the local, and particularly the "regional" level, have also undergone something of a revolution themselves.2 This "unexpected" revolution occurred at the sub-national level with far less fanfare. It saw the rise of regional governments across Europe in years since 1945 to the extent that some form of regionalism has become the norm in the majority of Member States. The reasons for this development are too complex to be discussed here. In this article we instead examine the role of the regional tier in the European Union and how the changing nature of the Union in the years since 1989 have impacted upon their European role.
Citation
Hopkins, W.J. (2009) A Tale of Two Europe's: European Regions from Berlin to Lisbon. Wellington, New Zealand: Europe Twenty Years after the Fall of the Berlin Wall: Overcoming "East and West", 3-4 Nov 2009.
This citation is automatically generated and may be unreliable. Use as a guide only.