Price, Environment and Security: Multi-Modal Motivation in Residential Demand Response
(2009)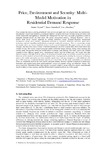 View/Open
Type of Content
Journal Article
Publisher
University of Canterbury. Electrical and Computer Engineering
University of Canterbury. Mechanical Engineering
Collections
Authors
Gyamfia, S.
Krumdieck, S.
Brackney, L.
show all
Abstract
Peak demand has been a growing problem for both security of supply and cost of generation and transmission. International research has attributed a significant influence of human behaviour on home energy for homes with similar households and appliances. Demand side management has had many successful programmes aimed at managing demand growth and load shape. The energy management strategy, "Demand Response", aims to achieve peak energy demand reduction by eliciting behaviour change. Demand Response management encompasses energy needs analysis, information provision to customers, behaviour induction, smart meter technology, and new signalling and feedback concepts for residential customers. There is concern that pricing mechanisms alone may impact negatively on lower-socio economic households. This paper reviews the two main strategies that have been used to reduce residential demand for electricity at peak times, direct load control and variable pricing. The current research program studies residential energy activities during winter morning and evening peaks and possible behaviour modifications to manage peak demand. This paper reports the demand response to three different signals: price, environmental impact, and risk of black-outs. The results show that demand response could effectively be achieved by focusing on normal energy use activities at peak times and the behaviour of the members of households during peak hours. A programme to develop the necessary technology and provide credible information and understandable signals about risks and consequences could reliably provide up to 30% temporary residential demand reduction at critical times. In this study, householders are informed about the relationship between the three factors and peak demand. Demand response is analysed as multi-mode motivation and responsiveness from stated preference surveys of customer energy use behaviour change. The survey results for Christchurch show that response to security signals is on par with price signals, environmental signals produce a strong response, and that all households respond to at least one of the signals.
Citation
Gyamfia, S., Krumdieck, S.P., Brackney, L. (2009) Price, Environment and Security: Multi-Modal Motivation in Residential Demand Response. engineering treNz: Transaction of Engineers New Zealand.
This citation is automatically generated and may be unreliable. Use as a guide only.
Keywords
demand response; behaviour motivation; household energy use; residential energy consumption
Related items
Showing items related by title, author, creator and subject.
Lee HS

;

Oh K

;

Keyvan-Ekbatani M

;

Ngoduy D

;

Johari M

(

2020

)

The urban traffic networks of cities are complex with many transport modes that share and compete for limited road space in the urban landscape. As part of An Accessible City (ACC) framework of Christchurch that was ...

Gyamfi, S.

;

Krumdieck, S.P.

;

Brackney, L.

(

University of Canterbury. Mechanical Engineering

,

2010

)

Influencing households to adopt sustainable energy consumption behaviour is important to the transition towards a sustainable energy future. However, if one aims at influencing the energy consumption habits of people, one ...

Gyamfi, S.

;

Krumdieck, S.

;

Brackney, L.

(

University of Canterbury. Mechanical Engineering.

,

2008

)

The world summit on sustainable development in Johannesburg concluded that changing unsustainable patterns of energy use is a key area for global action to ensure survival of our planet. Demand response in the residential ...