Sri Lankan, Low-Country, Ritual Drumming: The Raigama Tradition
(2009)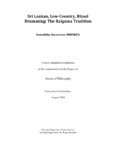 View/Open
Type of Content
Theses / Dissertations
Degree Name
Doctor of Philosophy
Publisher
University of Canterbury. School of Music
Collections
Abstract
This thesis provides an in-depth account of the Low-Country, ritual, drumming tradition of Sri Lanka. Low-Country drumming is characterized by its expressive and illusive sense of timing which makes it appear to be free of beat, pulse and metre. This makes it special in respect to other drumming cultures of the world. However, the drumming of the Low-Country is marginalized, unaccepted and unexposed. Drawing on original fieldwork from the Western province of Sri Lanka, this study analyses the drumming of three distinct rituals: devol maḍuva, Kalu Kumāra samayama and graha pūjāva of Raigama, the dominant sub-tradition of the Low-Country. The thesis reveals key features of the drumming tradition, some of which are hidden. These features include the musical structure that is beneath the surface of the drumming, timing, embellishment, improvisation and performance practice. It also documents the Low-Country drum, the yak beraya, its construction and relationship to the musician. The thesis addresses some of the changes that are occurring in the contemporary ritual and argues the need for the drumming to be brought out of its ritual context, for its survival in the future. It also documents a collaborative performance between Low-Country ritual performers and musicians from New Zealand.
Contains
This thesis is accompanied by three electronic appendices which are available through Inter-Library Loan: appendix 6 (Video Excerpts on DVD), appendix 7 (Audio Excerpts on CD), and Appendix 9 (Baliphonics on DVD).
Keywords
low country drumming Sri Lanka traditional music
Rights
Copyright Sumuditha Suraweera
Related items
Showing items related by title, author, creator and subject.