A Flying-Spot Laser Scanner for Tracking Eye Movements
(1996)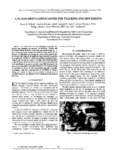 View/Open
Type of Content
Conference Contributions - Published
Publisher
University of Canterbury. Electrical and Computer Engineering
University of Canterbury. Communication Disorders
ISBN
978-0-7803-3811-1
Collections
Authors
Wilson, B.A.,
Jones, R.D.,
Bones, P.J.,
Anderson, T.J.
show all
Abstract
A novel system has been developed to provide noninvasive and simultaneous measures of horizontal, vertical, and torsional (rotation about the visual axis) movements of the eye. It uses a flyingspot laser scanner to selectively image landmarks on the eye. A horizontal scan through the centre of the pupil locates the left and right edges of the pupil allowing horizontal eye position to be estimated. Similarly, vertical eye position is estimated from a vertical scan through the pupil. A circular scan records striations on the iris from which torsional movement can be estimated from cross-correlation of successive circular scans. The instrument can measure eye movements with a bandwidth of 25 Hz through a range of movement in excess of ±40° horizontally and ±30° vertically. Preliminary trials have demonstrated the feasibility of using a flying spot scanner to track eye movements. It should prove a valuable tool for the investigation of eye movements in neurological disorders.
Citation
Wilson, B.,A., Jones, R.D., Bones, P.J., Anderson, T.J. (1996) A Flying-Spot Laser Scanner for Tracking Eye Movements. Amsterdam, Netherlands: 18th Annual International Conference of the IEEE Engineering in Medicine and Biology Society, 1996.
This citation is automatically generated and may be unreliable. Use as a guide only.
Keywords
biomedical measurement; laser applications in medicine; optical scanners; optical tracking
Rights
"©1996 IEEE. Personal use of this material is permitted. However, permission to reprint/republish this material for advertising or promotional purposes or for creating new collective works for resale or redistribution to servers or lists, or to reuse any copyrighted component of this work in other works must be obtained from the IEEE."