Fluorescence imaging in optical diffusion tomography
(2002)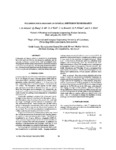 View/Open
Type of Content
Conference Contributions - Other
Publisher
IEEE Press
University of Canterbury. Electrical and Computer Engineering
Collections
Authors
Milstein, A.B.,
Zhang, Q.,
Oh, S.,
Webb, K.J.,
Bouman, C.A.,
Millane, R.P.,
Boas, D.A.
show all
Abstract
A Bayesian optimization scheme is presented for reconstructing fluorescent yield and lifetime, the absorption coefficient, and the scattering coefficient in turbid media, such as biological tissue. The proposed method utilizes measurements at both the excitation and emission wavelengths for reconstructing all unknown parameters. A tissue phantom experiment uses the inversion strategy to reconstruct a spherical heterogeneity containing indocyanine green.
Citation
Milstein, A.B., Zhang, Q., Oh, S., Webb, K.J., Bouman, C.A., Millane, R.P., Boas, D.A. (2002) Fluorescence imaging in optical diffusion tomography. Washington DC, USA: IEEE International Symposium on Biomedical Imaging, 2002. 58--61.
This citation is automatically generated and may be unreliable. Use as a guide only.
Rights
©2002 IEEE. Personal use of this material is permitted. However, permission to reprint/republish this material for advertising or promotional purposes or for creating new collective works for resale or redistribution to servers or lists, or to reuse any copyrighted component of this work in other works must be obtained from the IEEE.