Constraint-based tutors: a success story
(2001)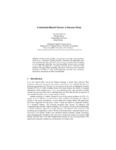 View/Open
Type of Content
Conference Contributions - Published
Publisher
Springer-Verlag Berlin Heidelberg LNAI
University of Canterbury. Computer Science and Software Engineering.
ISBN
978-3-540-42219-8
ISSN
0302-9743
Collections
Authors
Mitrovic, A.,
Mayo, M.,
Suraweera, P.,
Martin, B.
show all
Abstract
Student modeling (SM) is recognized as one of the central problems in the area of Intelligent Tutoring Systems. Numerous SM approaches have been proposed and used with more or less success. Constraint-based modeling is a new approach, which has been used successfully in three tutors developed in our group. The approach is extremely efficient, and it overcomes many problems that other student modelling approaches suffer from. We present the advantages of CBM over other similar approaches, describe three constraint-based tutors and present our future research plans.
Citation
Mitrovic, A., Mayo, M., Suraweera, P., Martin, B. (2001) Constraint-based tutors: a success story. Budapest, Hungary: Engineering of Intelligent Systems : 14th International Conference on Industrial and Engineering Applications of Artificial Intelligence and Expert Systems (IEA/AIE 2001), 4-7 Jun 2001. Lecture Notes in Computer Science, 2070, 931-940.
This citation is automatically generated and may be unreliable. Use as a guide only.