A preliminary study of the transport of air from Africa and Australia to New Zealand
(1997)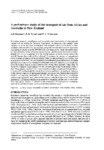 View/Open
Type of Content
Journal Article
Publisher
University of Canterbury. Geography.
Collections
Authors
Sturman, A.P.,
Tyson, P.D.,
D'Abreton, P.C.
show all
Abstract
Kinematic trajectory modelling is used in a preliminary examination of inter-regional transport of air within the Southern Hemisphere. In particular, the westerly zonal transport of air in the lower troposphere from southern Africa and Australia to New Zealand is determined for January and July, using both forward and backward trajectories originating or ending up in the 850-800 hPa layer respectively. Mean transport plumes are derived from swarms of individual trajectories, and the results show that in winter around 22% of air originating over the central interior of South Africa reaches the central Tasman Sea south of New Zealand. In summer the amount is insignificant owing to seasonal changes in the position of major circulation features. In contrast, both summer and winter low-level air transport from southeastern and southwestern Australia and adjacent oceans to New Zealand is substantial, with 83% of all low-level air parcels from the Sydney area in summer passing over central New Zealand 5 days later. In winter the transport plume passes over the northern part of the North Island within 3 days. Back trajectories show that in some seasons two distinct paths are followed by air arriving at Christchurch and Auckland, from the west-northwest and southwest. Analysis of the vertical structure of the transport plumes arriving in New Zealand shows that the westerly air reaching Auckland in the 850-800 hPa layer does so in a subsiding airstream throughout the year, whereas that arriving in the same layer over Christchurch experiences only minor subsidence en route from Australia and the ocean to the south. This descending motion is related to the dominance of anticyclomc circulation, particularly over the northern section of the New Zealand region.
Citation
Sturman, A.P., Tyson, P.D., D'Abreton, P.C. (1997) A preliminary study of the transport of air from Africa and Australia to New Zealand. Journal of the Royal Society of New Zealand, 27, pp. 485-498.
This citation is automatically generated and may be unreliable. Use as a guide only.
Keywords
trajectory analysis; atmospheric circulation; air movement; New Zealand; Africa; Australia