Contractual Legislation and Company Law
(1982)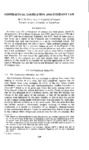 Type of Content
Journal Article
Publisher
University of Canterbury. School of Law
Collections
Abstract
In recent years the common law of contract has been greatly altered by the provisions of the Illegal Contracts Act 1970, the Contractual Mistakes Act 1977 and the Contractual Remedies Act 1979. Each of these statutes was based on a report of the Contracts and Commercial Law Reform Committee and each was conceived as a purely contractual reform. Yet the law of contract does not exist in vacuo. Many contracts impinge upon other fields of law. It is a common feature of each of the Reports of the Committee that the effect of the contractual reform on such other areas of law is not considered.' This is the more curious since before completion of the reports upon which the Contractual Mistakes Act and the Contractual Remedies Act were based the applicability of the earlier Illegal Contracts Act in the company law area had already been canvassed.The purpose of this article is to consider the possible application of the Contractual Mistakes Act and the Contractual Remedies Act to various areas of company law.
Citation
Finn, J.N. (1982) Contractual Legislation and Company Law. Canterbury Law Review, 1, pp. 369-384.
This citation is automatically generated and may be unreliable. Use as a guide only.