Sir Kenneth Gresson: a study in judicial decision making
(1997)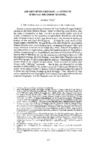 Type of Content
Journal Article
Publisher
University of Canterbury. School of Law
ISSN
0112-0581
Collections
Abstract
Despite a recent upwelling of interest in New Zealand's legal history, [1] writing in the field remains scanty. Much of what has been written over the years is invaluable in that it creates an accessible public record of events, institutions or the activities of individuals. Relatively few of the older writings display to any significant degree any attempt at analytical history of law and legal development - perhaps because much of the extant corpus is written for lawyers by lawyers; other works are on occasion limited because non-lawyer authors have not managed to master the legal issues involved in the events of which they write. Judicial biography is a specialised form of legal history, and in the limited number of biographies [2] of New Zealand judges so far published, instances of both these difficulties may be found. But these are not the reasons for scholars to take care with biographical writings. In New Zealand, as in most other Western countries, judicial biography is often undertaken by persons with familial or personal relationships to the subject of their study. [3] Such accounts are often what Posner calls "edifying' accounts - that is they are designed to provide models or antimodeis for the reader's own life; [4] others are attempts to lay a claim to the subject's place in history. Critical appraisal cannot be expected to form any significant element in such writings. [5] Total objectivity may not be expected of any biographer [6] but without some approach thereto the resultant biography is of but limited value for later scholars.
Citation
Finn, J.N. (1997) Sir Kenneth Gresson: a study in judicial decision making. Canterbury Law Review, 6, pp. 481--498.
This citation is automatically generated and may be unreliable. Use as a guide only.