The Effects of Interactivity and Product Information on Consumers' Emotional Responses to an Online Retail Setting
(2009)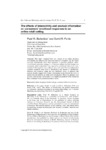 View/Open
Type of Content
Journal Articles
Publisher
University of Canterbury. Management
Collections
Authors
Ballantine, P.,
Fortin, D.
show all
Abstract
This study examined how two aspects of an online shopping environment can influence the emotional states of consumers, and how these emotions subsequently affect their intentions to purchase products online. A web-based experiment (using a 3 × 3 between-subjects factorial design) was conducted, where respondents were exposed to a simulated online retail store. A total of 360 responses were collected from web users. The two independent variables examined were level of interactivity and amount of information. Emotion was measured using the two emotional states of pleasure and arousal. Results suggest that a linear relationship exists between the level of interactivity provided by an online store and pleasure. Moreover, pleasure (and in some cases arousal) was found to be a significant predictor of the likelihood that a consumer would purchase products online.
Citation
Ballantine, P., Fortin, D. (2009) The Effects of Interactivity and Product Information on Consumers' Emotional Responses to an Online Retail Setting. International Journal of Internet Marketing and Advertising, 5(4), pp. 260-271.
This citation is automatically generated and may be unreliable. Use as a guide only.
Keywords
online shopping; interface design; consumer behaviour; emotion; interactivity; product information; consumer responses; emotional responses; online retailing; e-tailing; e-shopping; purchasing intentions; online stores; web users