Spectral Evaluation of High Force-Volume Lead Dampers for Structural Response Reduction
(2006)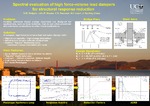 Type of Content
Conference Contributions - Published
Publisher
University of Canterbury. Civil Engineering.
University of Canterbury. Mechanical Engineering.
Collections
Authors
Rodgers, G.W.,
Denmead, C.,
Leach, N.,
Chase, J.G.,
Mander, J.B.
show all
Abstract
Response spectra analysis across multiple earthquake suites is used to investigate the reductions in structural response from the addition of lead extrusion damping, based on ongoing research with high force/volume devices suitable for packaging in beam-column connections. Reduction factor statistics are used to characterise the response using suites of ground motions from the SAC project. Regression analysis is used to characterise reduction factors in the constant acceleration, velocity, and displacement regions of the response spectra. Peak damping reduction factors achieved with the addition of extrusion damping equal to 10% of structural weight are approximately 6.5x, 4.0x, and 2.8x for the low, medium and high ground motion suites respectively, based on a validated full-scale prototype device. The results provide initial proof-of-concept in a performance based design context, at experimentally verified forces, for using these devices to increase the seismic resilience of critical infrastructure.
Citation
Rodgers, G.W., Denmead, C.S., Leach, N.C., Chase, J.G., Mander, J.B. (2006) Spectral Evaluation of High Force-volume Lead Dampers for Structural Response Reduction. Napier, New Zealand: New Zealand Society of Earthquake Engineering 2006 Conference (NZSEE 2006): Remembering Napier 1931 - Building on 75 Years of Earthquake Engineering in NZ, 10-12 Mar 2006. Proceedings of the New Zealand Society of Earthquake Engineering Annual Conference, Paper No. 49, 8pp.
This citation is automatically generated and may be unreliable. Use as a guide only.