In Vivo Effects of Reduced-Sodium Perilymph Perfusion on Hair Cell and Neural Potentials
(2007)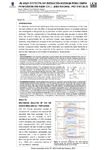 Type of Content
Conference Contributions - Other
Publisher
University of Canterbury. Department of Communication Disorders.
ISSN
0742-3152
Collections
Authors
O'Beirne, Greg A.
Patuzzi, R.B.
show all
Abstract
To determine the functional significance of the sodium-transport mechanisms of the outer hair cells (OHCs) in vivo, the effect of reduced perilymphatic sodium on cochlear potentials was investigated in the guinea pig by perfusion of scala tympani with a modified artificial perilymph. The Na+ concentration of the artificial perilymph was reduced by almost 95% (from 150 mM to 8 mM) by substitution with choline, and resulted in an estimated 80% reduction in perilymphatic Na+ on perfusion through scala tympani. OHC function was assessed using Boltzmann analysis of the low-frequency cochlear microphonic (CM) and measurement of the high-frequency summating potential (SP) recorded at the round window. Compound action potential (CAP) thresholds and waveforms were monitored at multiple frequencies and the amplitude of the spectrum of the neural noise (SNN) in silence was measured as an indicator of spontaneous neural activity.
Citation
O'Beirne, G.A., Patuzzi, R.B. (2007) In Vivo Effects of Reduced-Sodium Perilymph Perfusion on Hair Cell and Neural Potentials. Denver, CO, USA: 30th Annual Midwinter Research Meeting of the Association for Research in Otolaryngology, 10-15 Feb 2007. Abstracts of the Thirtieth Annual Mid Winter Research Meeting of the Association for Research in Otolaryngology, 30, 19.
This citation is automatically generated and may be unreliable. Use as a guide only.
Related items
Showing items related by title, author, creator and subject.
O'Beirne, Greg A.

;

Patuzzi, R.B.

(

University of Canterbury. Department of Communication Disorders.

,

2008

)

The effect of osmotic bias on cochlear potentials was investigated by perfusion of scala tympani with a modified artificial perilymph. The mean osmolality of the artificial perilymph was increased by around 15% (from 303 ...

Chang JC

;

Brennan KC

;

He D

;

Huang H

;

Miura RM

;

Wilson PL

;

Wylie JJ

(

PUBLIC LIBRARY SCIENCE

,

2013

)

Cortical spreading depression (CSD) is a slow-moving ionic and metabolic disturbance that propagates in cortical brain tissue. In addition to massive cellular depolarizations, CSD also involves significant changes in ...

Chiew, Y.S.

;

Piquilloud, L.

;

Desaive, T.

;

Lambermont, B.

;

Roeseler, J.

;

Revelly, J.P.

;

Bialais, E.

;

Tassaux, D.

;

Jolliet, P.

;

Chase, Geoff

(

University of Canterbury. Mechanical Engineering

,

2011

)