Industry adjustment and community change: impacts of the cessation of indigenous production forestry in rural resource communities of South Westland, New Zealand.
(2003)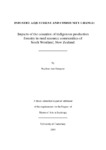 View/Open
Type of Content
Theses / Dissertations
Thesis Discipline
Sociology
Degree Name
Master of Arts
Publisher
University of Canterbury. Sociology
Collections
Abstract
This thesis explores the range of social impacts affecting Whataroa and Harihari, two of Westland's resource communities, following the cessation of logging in the adjacent indigenous forests in April 2002. Considerable changes eventuated from the decision to cease production forestry and the analysis of these changes has been contextualised within wider industry adjustment and change. The aims of this study were threefold; (i) to determine how the end to logging and the loss of a pivotal local industry affected the communities of Whataroa and Harihari; and, (ii) to explore wider industry change; and (iii) to address the question of how concomitant broader socio-economic changes of the last few decades have merged into existing social and physical structures. The study used extensive community consultation and secondary data analysis, in its appraisal of impacts. Exploration of the issues revealed considerable adjustments occurred to the overall patterns of social organization and work, as local people have become increasingly reliant on ad-hoc and seasonal working arrangements. In Whataroa, recent growth in tourism and expansion in the dairy sector has increased job opportunities; a diversification that has buffered local economy. The industry base in Harihari, in contrast, has narrowed to become predominantly dairy farming. Yet both communities have managed to continue, in spite of the loss of what had previously constituted a core cultural community marker. Its loss led local people to draw on aspects of local identity to assist in the negotiation of change. Shared discourses and collective rhetoric, embedded in the environment, have been used to maintain the specific local identity that has assisted the people of Whataroa and Harihari to reinforce and safeguard their communities in the face of social change. It is only by acknowledging the contribution of specific local identity, manifest in perceptions and engagement with physical and social environments, that the social and cultural impacts on community can be fully assessed.
Rights
Copyright Kaylene Ann Sampson