On intergranular void ratio of loose sand with small amount of fines
(2007)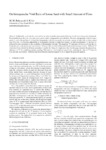 View/Open
Type of Content
Conference Contributions - Published
Publisher
University of Canterbury. Civil and Natural Resources Engineering
Collections
Abstract
Traditionally, void ratio has been used as an index to predict stress-strain behaviour of soil under steady state framework. Recent publications show that void ratio is not a proper index for gap graded sand with fines. Therefore, intergranular void ratio is proposed to resolve this problem. It is found that intergranular void ratio can predict stress-strain response of sand with low fines content (say 10%) only. To extend the applicability of intergranular void ratio to higher fines content, an additional parameter "b" has been introduced by some researchers in the calculation of intergranular void ratio. The parameter "b" represents the fraction of fines that actively take part on the parent sand force structure. However, there is a lack of theoretical basis for determining a b-value. Different "b" values have been selected by different researchers to enable the fitting of a single trend line, but this paper examines the physical significances of "b" by considering particles packing. This leads to a semi-empirical equation for predicting the value of "b" based on fines size and fines content. Published data from different researchers appears to be in support the proposed equation.
Citation
Rahman, M. M. & Lo, S. R. (2007) On intergranular void ratio of loose sand with small amount of fines. Kuala Lumpur, Malaysia: 16th South East Asian Geotechnical Conference (2007 SEAG), 8-11 May 2007. 255-260.
This citation is automatically generated and may be unreliable. Use as a guide only.