Resilience: Great Concept but What Does it Mean?
(2008)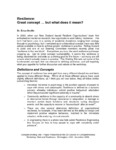 Type of Content
Conference Contributions - Published
Publisher
University of Canterbury. Civil and Natural Resources Engineering
Collections
Abstract
In 2003, when our New Zealand based Resilient Organisations team first embarked on resilience research, few organizations were talking 'resilience'. The term had been used in a variety of academic disciplines ranging from ecology through to psychology, but it remained quite a theoretical concept; there was little advice available on how to achieve greater resilience in practice. Rolling forward to 2008 and one of our Steering Committee members recently joked that "resilience is the new black". Everywhere you turn, the word resilience just keeps cropping up. Like its sister concept 'sustainability', it seems that resilience is being presented far and wide as a shining goal for the future – but many are still unsure what it actually means in practice. This Briefing Bite sets out some of the fundamental concepts that are relevant to defining resilience, and will hopefully whet your appetite for further discussion and debate at the workshop.
Citation
Seville, E. (2008) Resilience: Great Concept but What Does it Mean?. Wilmington, USA: Council on Competitiveness - Risk Intelligence and Resilience Workshop, Nov 2008.
This citation is automatically generated and may be unreliable. Use as a guide only.