Calibration and operation of the 3D spectroscopic "MARS" scanner
(2008)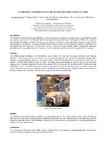 Type of Content
Conference Contributions - Other
Publisher
University of Canterbury. Electrical and Computer Engineering
University of Canterbury. Physics and Astronomy
Collections
Authors
Schleich, N.,
Butler, A.P.H.,
Cook, N.J.,
Butzer, J.S.,
van Leeuwen, D.,
Bones, P.,
Butler, P.H.,
Ross, F.,
MARS-CT Team
show all
Abstract
The Medipix All Resolution System (MARS) is a 3D spectroscopic imaging CT scanner based on the Medipix photon processing x-ray detector. The Medipix hybrid silicon pixel detectors, which were developed at CERN, are capable of high spatial and temporal resolution. Images can be obtained at different energy thresholds offering the potential for spectroscopic x-ray analysis. The present desktop MARS scanner (Figure 1) was constructed through a collaboration of researchers from the University of Canterbury and the Canterbury District Health Board. Mechanical calibration procedures and image quality tests will be presented and the operation and the status of the scanner will be discussed.
Citation
Schleich, N., Butler, A.P.H., Cook, N.J., Butzer, J.S., van Leeuwen, D., Bones. P., Butler, P.H. (2008) Calibration and operation of the 3D spectroscopic "MARS" scanner. Christchurch, New Zealand: Engineering and Physical Sciences in Medicine and the Australian Biomedical Engineering Conference, 16-20 Nov 2008.
This citation is automatically generated and may be unreliable. Use as a guide only.