Trip Model with the Application of Remote Sensing and the Geographic Information Systems
(1998)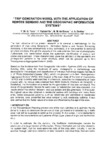 View/Open
Type of Content
Conference Contributions - Other
Publisher
University of Canterbury. Civil Engineering.
Collections
Authors
Taco, P.W.G.,
Yamashita, Y.,
Dantas, A.,
Souza, N.M.
show all
Abstract
The main objective of the present research is to develop a methodology for the generation of trips using Geographic Information Systems and Remote Sensoring. According to the new developments in this technology, it is now possible to sectorise an urban structure, through the analysis of the data obtained from aerial photographs. Furthermore, this sectorization allows the systematic identification of sectors with similar characteristics. These characteristics allow the definition of the geometric and photographic patterns in the urban structure, which can be grouped up to form "Homogeneous Aggregated Sectors" (HAS). Based on the fundamentals from Geographic Information Systems (GIS) and Remote Sensing (RS), using the treatment of aerial photographs, a methodology was developed for the analysis and classification of the data from these images that results in of "Photo-Interpreted Classes" (PIC), which are grouped up to form "Homogeneous Aggregated Sedors" (HAS). With respect to the case study of the town of Sobradinho, 16 PlCs and 15 HASs were identified. Furthermore, based on the relationship of these classes with the census data obtained from IBGE (Instituto Brasileiro de Geografia e Estatistica), the formulation of a model for the generation of trips was developed. This model of trip generation factors for each class, in Sobradinho town was obtained. This results shows the relation between land use pattern and trip generation. In this study, the highest value was obtained in residential sectors with buildings with many floors while, mixed occupation patterns, such as residences and workshops or residences and comercial area, presented low value comparing with residencial patterns. It was also verified that the factor values of a class are influenced by the age of the area.
Citation
Taco, P.W.G., Yamashita, Y., Dantas, A.S., Souza, N.M. (1998) Trip Model with the Application of Remote Sensing and the Geographic Information Systems. Toronto, Ontario, Canada: Compendium of Technical Papers 68th Annual Meeting Institute of Transportation Engineers - ITE., 1998.
This citation is automatically generated and may be unreliable. Use as a guide only.