Directional Interfaces for Wearable Augmented Reality
(2008)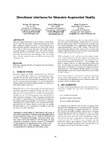 View/Open
Type of Content
Conference Contributions - Published
Publisher
University of Canterbury. Human Interface Technology Laboratory
Collections
Authors
Buchmann, V.
Billinghurst, Mark
Cockburn, A.
show all
Abstract
Wearable Augmented Reality can be used to overlay information onto the real world. Directional interfaces in W.A.R. aid users to orient themselves so that previously invusible targets are now inside their field of view. This is relevant when the user tries to find the next waypoint during a navagational task. We surveyed directuinal interfaces that have been used in augmented reality previously and compared their efficiency. We have found that a circular compass is the most efficient way to provide orientation cues.
Citation
Buchmann, V., Billinghurst, M., Cockburn, A. (2008) Directional Interfaces for Wearable Augmented Reality. Wellington, New Zealand: 9th Annual ACM SIGCHI-NZ Conference on Human-Computer Interaction (CHINZ 2008), 2 Jul 2008.
This citation is automatically generated and may be unreliable. Use as a guide only.
Keywords
wearable augmented reality; navigation; directional interfaces; haptics
Related items
Showing items related by title, author, creator and subject.
Jose, Richie

(

University of Canterbury. Human Interface Technology Lab

,

2015

)

Augmented Reality (AR) is technology that provides a view of real world environment with which has augmented or virtual components. In this thesis I explore how AR can be used for in-vehicle applications. AR systems can ...

Wen, James

(

University of Canterbury. Computer Science

,

2014

)

Being completely lost in an unfamiliar environment can be inconvenient, stressful and, at times, even dangerous. Maps are the traditional tools used for guidance but many people find maps difficult to use. In recent years, ...

Irawati, S.

;

Green, S.

;

Billinghurst, Mark

;

Duenser, A.

;

Ko, H.

(

University of Canterbury. Human Interface Technology Laboratory.

,

2006

)

This paper discusses an evaluation of an augmented reality (AR) multimodal interface that uses combined speech and paddle gestures for interaction with virtual objects in the real world. We briefly describe our AR ...