Supply and demand is not sustainable
(2004)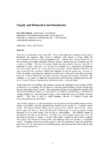 Type of Content
Conference Contributions - Published
Publisher
University of Canterbury. Mechanical Engineering.
Collections
Authors
Krumdieck, S.,
Dantas, A.,
Burton, T.
show all
Abstract
What does a sustainable society look like? Prior to the industrial revolution, local societies developed and organized their resource utilisation with regard to living within the environmental constraints of their geographical area. Whether past cultures found ways to live in relative sustainability through conscious design or through limited technology may be a source of debate. The fact of resource limits has been patently obvious to people for thousands of years. However, over the past two centuries or so, engineered environments have increasingly defined the living experiences of people in the developed world where the only constraint is the consumer's ability and willingness to pay the going price. Because we believe in supply-and-demand as national economic policy and endless growth as economic necessity, we have collectively lost sight of the fact of energy and resource constraints. The challenge for our time is to apply the same powerful intellectual and technological tools that have created the illusion of perpetual growth and use them to find our limits.
At the University of Canterbury, the Advanced Energy and Material Systems Group (AEMS) is dedicated to investigating the role that new technology and modelling can play in deploying the next generation energy system. The engineering systems design approach, together with advanced modelling techniques are employed in a revolutionary methodology to determine an "energy architecture" that could meet society's needs within the limits of available resource capacity. This field of study is called Strategic Analysis of Complex Energy and Environmental Systems (SACEES). The SACEES approach has been developed from original research describing human activity, energy consumption, and the environmental impacts in the model of a feedback control system. The system operates within a specific geographical, cultural, and economic context. In this paper, the theory is described and used to demonstrate why pricing signals through increased cost for fossil energy will not lead to sustainability. The feedback signals as described by the theory are discussed, showing why environmental impacts have also not been effective drivers for change. The role of the market is explored, and the theory explains why supply and demand economic policy and planning will never produce a sustainable society. Examples of historical events are given, and the conclusion is made that availability and service are the clear factors in stabilizing energy and environment systems and driving them toward sustainability.
Citation
Krumdieck, S., Dantas, A., Burton, T. (2004) Supply and demand is not sustainable. Auckland, New Zealand: International Conference on Sustainability Engineering and Science, 6-9 Jul 2004. 12 pp.
This citation is automatically generated and may be unreliable. Use as a guide only.