Medipix Imaging - evaluation of datasets with PCA
(2008)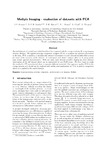 View/Open
Type of Content
Conference Contributions - Other
Publisher
University of Canterbury. Electrical and Computer Engineering
University of Canterbury. Physics and Astronomy
ISBN
978-1-4244-3780-1
Collections
Authors
Butzer, J.S.,
Butler, A.,
Butler, P.H.,
Bones, P.,
Cook, N.,
Tlustos, L.,
MARS-CT Team
show all
Abstract
Spectral datasets of a watch and a fetal hand have been acquired with the energy-resolving 2D X-ray imaging detector Medipix-2. We applied principal component analysis (PCA) to evaluate the spectral information in the data. PCA is useful as it identifies the relevant information in a few derived variables that account for most of the variance of the dataset. A scattergram and cluster analysis allow us to group pixels with similar spectral characteristics. With our data, three derived variables display the most relevant information of the full dataset which can be represented in one RGB image. We have begun to apply this method to CT reconstructed slices to separate different materials. Our approach applies PCA to the energy domain and should not be confused with widely used applications of PCA in pattern recognition where it is applied to the spatial domain.
Citation
Butzer, J., Butler, A., Butler, P., Bones, P., Cook, N., Tlustos, L. (2008) Medipix Imaging - evaluation of datasets with PCA. Lincoln, New Zealand: 23rd International Conference Image and Vision Computing New Zealand (IVCNZ08), 26-28 Nov 2008.
This citation is automatically generated and may be unreliable. Use as a guide only.
Keywords
image processing; principal component; spectroscopic x-ray imaging; Medipix