Static and dynamic experimental investigations of a micro-electromechanical cantilever in air and vacuum
(2009)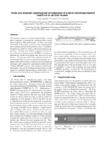 View/Open
Type of Content
Conference Contributions - Published
Publisher
University of Canterbury. Mechanical Engineering
Collections
Authors
Gutschmidt, S.,
Rochus, V.,
Golinval, J.
show all
Abstract
The dynamic response of electro-mechanically actuated micro structures is governed by nonlinear effects which directly influence their performance. To date, most work in the field of micro/nano systems is done experimentally and documented theoretical research consists of nonlinear lumped-mass models as well as continuum mechanics approaches. Existing and codified computational tools for micro-electromechanical systems (MEMS) more and more penetrate the market of designers and fabrication of such devices. The present work is the experimental part of a bench-mark study of a selected microbeam structure investigated with aforementioned analytical and computational techniques and compared to experiments performed with a Polytec MSA400 analyzer. The emphasis of this benchmark study is put on the nonlinear dynamic behavior with respect to qualitative and quantitative explanations of the electro-mechanical actuation and damping mechanisms.
Citation
Gutschmidt, S., Rochus, V., Golinval, J. (2009) Static and dynamic experimental investigations of a micro-electromechanical cantilever in air and vacuum. Delft, The Netherlands: 10th International Conference on Thermal, Mechanical and Multi-Physics simulation and Experiments in Microelectronics and Microsystems. EuroSimE 2009, 26-29 Apr 2009.
This citation is automatically generated and may be unreliable. Use as a guide only.