Seismic Performance of Hollow-core Flooring: the Significance of Negative Bending Moments
(2008)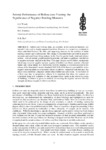 Type of Content
Conference Contributions - Published
Publisher
University of Canterbury. Civil and Natural Resources Engineering
Collections
Authors
Woods, L.J.,
Fenwick, R.C.,
Bull, D.K.
show all
Abstract
Hollow-core flooring units, as described in the technical literature, are intended to be used as simply supported members. However, in construction continuity is often established between the units and supporting structure by the addition of insitu topping concrete and reinforcement. This change in structural form can result in negative moments and axial forces being induced in the floor by gravity loads, wind and seismic actions. Vertical seismic ground motion in particular can make a significant contribution to negative moments induced in the floor. This paper focuses on two failure mechanisms which may occur in negative moment regions of hollow-core floors, namely a flexural failure and a shear failure. It is shown that, with the detailing in common use prior to the release of the Structural Concrete Standard, NZS 3101-2006, there is a potential for brittle negative moment failure to occur under seismic conditions. Analytical work indicates that under some conditions a diagonal tension (shear) failure may also occur. As the failure of a floor may lead to progressive collapse it is important that these two aspects are considered along with a number of other potential failure modes in the retrofit or design of buildings. Guidance is given on methods of assessing the negative moment flexural strength and shear strength of hollow-core floors.
Citation
Woods, L.J., Fenwick, R.C., Bull, D.K. (2008) Seismic Performance of Hollow-core Flooring: the Significance of Negative Bending Moments. Wairakei, New Zealand: 2008 New Zealand Society of Earthquake Engineering (NZSEE) Conference, 11-13 Apr 2008.
This citation is automatically generated and may be unreliable. Use as a guide only.