Minimal model simulation of diseases affecting the cardiovascular system
(2004)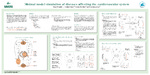 View/Open
Type of Content
Conference Contributions - Other
Publisher
University of Canterbury. Mechanical Engineering.
Collections
Authors
Smith, B.W.,
Chase, J.G.,
Shaw, G.M.
show all
Abstract
Medical staff diagnosing cardiovascular system (CVS) dysfunction are often faced with a confusing array of measured data, where the cause of the original dysfunction is often clouded by the effects of the autonomous nervous system. A robust mathematical model of the CVS would help medical staff and researchers delineate the relative effects of a variety of dysfunctions and reflexes on CVS haemodynamics. The result would be improved understanding of the pathophysiology of the CVS and insight into the most beneficial therapies that could be applied in each case. This research investigates the ability of a minimal cardiovascular system model to simulate the haemodynamic effects of dysfunctions that affect the heart and circulatory system.
Citation
Smith, B.W., Chase, J.G., Shaw, G.M. (2004) Minimal model simulation of diseases affecting the cardiovascular system. Berlin, Germany: European Society of Intensive Care Medicine Annual Meeting (17th ESICM), 10-13 Oct 2004.
This citation is automatically generated and may be unreliable. Use as a guide only.