Hedonic prices for structural wood attributes of radiata pine logs in New Zealand
(2009)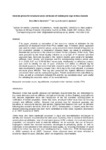 View/Open
Type of Content
Conference Contributions - Published
Publisher
University of Canterbury. School of Forestry
Collections
Authors
Alzamora, R.M.,
Apiolaza, L.A.
show all
Abstract
This paper presents an estimation of the economic values of attributes for the production of structural timber from Pinus radiata logs. A hedonic prices approach was used to obtain economic values, using conversion return instead of log price as the dependent variable. A comparison between these log values is presented to illustrate the pertinence of the conversion return for the purposes of this study. Data were provided by the Wood Quality Initiative as a sample of 71 second and third unpruned logs. Attributes included in the hedonic models were small end diameter, stiffness, basic density, and branches and the corresponding hedonic prices were 0.11, 0.029, 0.37 and -0.55 NZ $/m3 respectively. Additionally, an efficiency analysis was used to identify the mix of wood attributes that define an efficient log for structural purposes, from a technical and economic point of view. The application of data envelopment analysis showed that a third log is the most efficient to produce structural grade MSG8+. This log also presented the highest difference between conversion return and its corresponding price. Trends observed in the cost efficiency index, as well as correlations between this and the log conversion return were useful for validating the economic values of the wood attributes.
Citation
Alzamora, R.M, Apiolaza, L.A. (2009) Hedonic prices for structural wood attributes of radiata pine logs in New Zealand. Perth, Australia: Second Australasian Forest Genetics Conference, 20-22 Apr 2009.
This citation is automatically generated and may be unreliable. Use as a guide only.
Keywords
economic values; log attributes; structural lumber; hedonic models; DEA