Revisiting Read Wear: Analysis, Design, and Evaluation of a Footprints Scrollbar
(2009)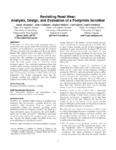 View/Open
Type of Content
Conference Contributions - Published
Publisher
University of Canterbury. Computer Science and Software Engineering
University of Canterbury. College of Science
Collections
Authors
Cockburn, A.,
Fitchett, S.,
Gutwin, C.,
Greenberg, S.,
Alexander, J.
show all
Abstract
In this paper, we show that people frequently return to previously-visited regions within their documents, and that scrollbars can be enhanced to ease this task. We analysed 120 days of activity logs from Microsoft Word and Adobe Reader. Our analysis shows that region revisitation is a common activity that can be supported with relatively short recency lists. This establishes an empirical foundation for the design of an enhanced scrollbar containing scrollbar marks that help people return to previously visited document regions. Two controlled experiments show that scrollbar marks decrease revisitation time, and that a large number of marks can be used effectively. We then design an enhanced Footprints scrollbar that supports revisitation with several features, including scrollbar marks and mark thumbnails. Two further experiments show that the Footprints scrollbar was frequently used and strongly preferred over traditional scrollbars.
Citation
Alexander, J., Cockburn, A., Fitchett, S., Gutwin, C., Greenberg, S. (2009) Revisiting Read Wear: Analysis, Design, and Evaluation of a Footprints Scrollbar. Boston, MA, USA: 27th CHI Conference (CHI 2009), 4-9 Apr 2009. 1665-1674.
This citation is automatically generated and may be unreliable. Use as a guide only.
Keywords
scrolling; Document revisitation; read wear