Active insulin infusion using optimal and derivative weighted control
(2002)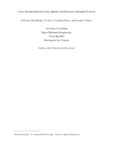 View/Open
Type of Content
Journal Article
Publisher
University of Canterbury. Mathematics and Statistics.
University of Canterbury. Mechanical Engineering.
ISSN
13504533
Collections
Authors
Lam, Z.,
Hwang, K.S.,
Lee, J.Y.,
Chase, J.G.,
Wake, G.C.
show all
Abstract
Close control of blood glucose levels significantly reduces vascular complications in Type I diabetes. A control method for the automation of insulin infusion that utilizes emerging technologies in blood glucose biosensors is presented. The controller developed provides tighter, more optimal control of blood glucose levels, while accounting for variation in patient response, insulin employed and sensor bandwidth. Particular emphasis is placed on controller simplicity and robustness necessary for medical devices and implants.
Citation
Lam, Z., Hwang, K.S., Lee, J.Y., Chase, J.G., Wake, G.C. (2002) Active insulin infusion using optimal and derivative weighted control. Journal of Medical Engineering and Physics, 24(10), pp. 663-672.
This citation is automatically generated and may be unreliable. Use as a guide only.
Keywords
diabetes; optimal control; automated; insulin infusion; sensor lag