Extended Policy-Based Management Framework to Provide Always Best Connected Services in Heterogeneous Mobile Environments.
(2009)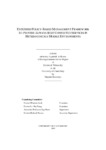 View/Open
Type of Content
Theses / Dissertations
Thesis Discipline
Computer Science
Degree Name
Doctor of Philosophy
Publisher
University of Canterbury. Computer Science and Software Engineering
Collections
Abstract
The growth in the popularity of Internet services, increasing demands of mobile users together with a wide range of access technologies and mobile-networked devices, introduces the notion of integration and inter-working of heterogeneous access networks. Sometimes referred to as 4th generation (4G) networks, the overall objective of this research is to provide a managed Always Best Connected (ABC) service over underlying heterogeneous wireless and mobile platforms while maintaining negotiated security and Quality of Service in a scalable and modular environment. This research proposes a new model and its architecture for policy-based management (PBM) to provide a framework for the centralised management of networks based on business-level policies. This work extends existing IETF Policy-based Network Management (PBNM) model by introducing a new layered-approach which facilitates the negotiation of management services over interconnected heterogeneous mobile platforms, thus achieving an ABC scenario. The proposed layered-approach provides flexibility to the organisations so that they can choose favourable semantic and syntactic approaches and facilitates the separation of management policies from their implementation in a distributed and heterogeneous environment. The extended Policy Information Model and a new policy conflict detection technique are also introduced. Further, we have proposed and implemented a new model of a policy-managed mobile client and its architecture to support seamless handoff across multiple access networks. The proposed mobile client supports multi-domain authentication and security along with downloadable user profiles. We have also proposed and implemented a network selection algorithm and introduced a new Infrastructure parameter, which assists in selecting an optimum time and the best available access network to handoff. We present performance analysis to validate our architectural approach.
Rights
Copyright Mayank Keshariya