Design Procedure and Behaviour of Advanced Flag-Shape (AFS) MDOF Systems
(2008)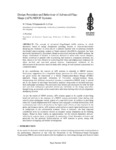 View/Open
Type of Content
Conference Contributions - Published
Publisher
University of Canterbury. Civil and Natural Resources Engineering
Collections
Authors
Kam, W.Y.
Pampanin, Stefano
Palermo, A.
Carr, A.
show all
Abstract
The concept of Advanced Flag-Shaped (AFS) systems, in which alternative forms of energy dissipations (yielding, friction or viscous/visco-elastic damping) are combined in series and/or in parallel together with re-centering elements (un-bonded posttensioning tendons or Smart memory alloy(SMA) elements), has been previously introduced by the authors. Based on numerical analyses on SDOF-systems, the unique combination of friction or hysteretic dampers in series with viscous dampers, further combined in parallel with re-centering and hysteretic dissipation elements, has been shown to be very effective in controlling both force and displacement responses for either far-field and near-fault ground motions. Experimental validation of the effectiveness of the systems based on shake-table testing on wall systems is presented in a companion paper. In this contribution, the concept of AFS systems is extended to MDOF systems. Preliminary suggestions for a simplified design procedure for AFS connection systems are given within the framework of a Direct Displacement-Based Design (DDBD) approach. Using case-study prototypes of five-storey moment-resisting frame, incorporating four different connection systems, a comparative MDOF study is carried out by the means of non-linear time-history analyses using suites of far-field and near-fault earthquake excitations. The non-linear time history analysis results for both far-field and near-fault earthquakes provided satisfactory validation of the design procedure, though being, as expected, on the conservative side when dealing with velocity-dependent dissipating systems. As per the results of SDOF systems, AFS systems appear to be capable of providing beneficial attribute to the response of a MDOF system, particularly when dealing with velocity-pulse earthquake record, typical of a near-field event. In addition to providing reduction of peak displacement/drift response and a negligible residual deformation, floor accelerations and column shears due to the higher mode effects are also lessened. In the global performance matrix, AFS systems would achieve a much higher performance level in comparison to the conventional systems. There is however, less than expected contribution from the excitation velocity on dampers' energy dissipation up the building heights. Based on these results, an approximation for the velocity-dependent devices' velocities at a given storey is proposed. In conclusion, a brief discussion on limits and potentials for the practical implementation of AFS systems is given, along with anticipation of ongoing and further investigations.
Citation
Kam, W.Y., Pampanin, S., Palermo, A., Carr, A. (2008) Design Procedure and Behaviour of Advanced Flag-Shape (AFS) MDOF Systems. Wairakei, New Zealand: 2008 New Zealand Society of Earthquake Engineering (NZSEE) Conference, 11-13 Apr 2008.
This citation is automatically generated and may be unreliable. Use as a guide only.
Related items
Showing items related by title, author, creator and subject.
Kam, W.Y.

;

Pampanin, Stefano

;

Carr, A.J.

;

Palermo, A.

(

University of Canterbury. Civil and Natural Resources Engineering.

,

2007

)

Experience with recent earthquakes near urban centers (Northridge 1994, Kobe 1995, Chi-Chi 1999) highlighted two major challenges in seismic engineering: the hazard and peculiarity of near-fault earthquakes, characterised ...

Kam, W.Y.

;

Pampanin, Stefano

;

Palermo, A.

;

Carr, A.

(

University of Canterbury. Civil and Natural Resources Engineering.

,

2008

)

A second generation of self-centering/dissipating systems, referred to as Advanced Flag-Shape (AFS) systems, has been recently proposed by the authors, consisting of combination of alternative forms of energy dissipatio ...

Kam, W.Y.

;

Pampanin, Stefano

;

Palermo, A.

;

Carr, A.

(

University of Canterbury. Civil Engineering.

,

2006

)

Remarkable improvements have been observed in seismic engineering in the recent past with the development of high-performance seismic resistant systems able to sustain major ground motions with limited levels of structural ...