Paternity Deferments and the Timing of Births: U.S. Natality during the Vietnam War
(2008)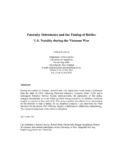 Type of Content
Journal Article
Publisher
University of Canterbury. Department of Economics and Finance
ISSN
1465-7295 (online) 0095-2583 (Print)
Collections
Abstract
During the conflict in Vietnam, married men with dependents could obtain a deferment from the draft. In 1965, following President Johnson's Executive Order 11241 and a subsequent Selective Service System announcement, the particulars of this policy changed substantially in a way which provided strong incentives for childless American couples to conceive a first-born child. This study examines the effects of the intervention on the decision to start a family. In my empirical analysis, I use data from the Vital Statistics for the period 1963–1968 and employ a difference-in-differences methodology. The estimated magnitude of the effect is substantial.
Citation
Kutinova, A. (2008) Paternity Deferments and the Timing of Births: U.S. Natality during the Vietnam War. Economic Inquiry, 47(2), pp. 351-365.
This citation is automatically generated and may be unreliable. Use as a guide only.