Monte Carlo Simulation of SSI Effects Using Simple Rheological Soil Model
(2009)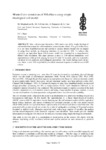 Type of Content
Conference Contributions - Published
Publisher
University of Canterbury. Civil and Natural Resources Engineering
Collections
Authors
Moghaddasi, K. M.,
Cubrinovski, M.,
Pampanin, S.,
Carr, A.,
Chase, J.G.
show all
Abstract
Most soil-structure interaction (SSI) studies use fairly simple rheological soil models that assume the soil-foundation system remains elastic. The goal of this study is to use these simplified models and systems to analyse almost exhaustively the impact of using these models on designing structures to account for SSI. To achieve this objective, an equivalent linear soil-structure model was examined in a comprehensive Monte Carlo simulation. This paper presents a study of 2.04 million simulations, over superstructures with periods ranging between 0.1 and 3.5 seconds, and over reasonable variations of soil, structure, and earthquake parameters. The overall finding shows in any case, there is over 70% of probability in which structural response is reduced due to SSI effects.
Citation
Moghaddasi K. M., Cubrinovski, M., Pampanin, S., Carr, A., Chase G. (2009) Monte Carlo Simulation of SSI Effects Using Simple Rheological Soil Model. Christchurch, New Zealand: 2009 NZSEE Conference, 3-5 April 2009.
This citation is automatically generated and may be unreliable. Use as a guide only.