Structural Health Monitoring using Adaptive LMS Filters
(2008)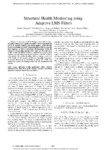 View/Open
Type of Content
Conference Contributions - Published
Publisher
University of Canterbury. Civil and Natural Resources Engineering
University of Canterbury. Mechanical Engineering
ISBN
978-0-473-13532-4
Collections
Authors
Nayyerloo, M.,
Chase, J.G.,
MacRae, G.,
Chen, X.Q.
show all
Abstract
A structure's level of damage is determined using a real time that comes with significant computational cost and non-linear model-based method utilizing a Bouc-Wen hysteretic complexity. Moreover, like other linear approaches they are model. It employs adaptive least mean squares (LMS) filtering not applicable to the typical non-linearities found in seismic theory in real time to identify changes in stiffness due to modeling error damage, as well as permanent displacements, which are structural responses. critical to determining ongoing safety and use. The structural In contrast, direct identification of changes in stiffness health monitoring (SHM) method is validated on a 4-story shear and/or permanent deflection would offer the post-earthquake structure model undergoing seismic excitation with 10% uniform outputs desired by engineers. The goal is to obtain these noise added. The method identifies stiffness changes within 0.5- stiffness changes in real time in a computationally efficient and 1.0% inside 0.2-1.0 seconds at different sampling frequencies. robust fashion. Model-based methods combined with modern Permanent deflections are identified to within 10% of the true value in 1.0 second, converging further over the remainder of the filterang theory offer that opportunity. record.
Citation
Nayyerloo, M., Chase, J.G., MacRae, G., Chen, X.Q. (2008) Structural Health Monitoring using Adaptive LMS Filters. Auckland, New Zealand: 15th International Conference on Mechatronics and Machine Vision in Practice (M2VIP 2008), 2-4 Dec 2008. 420-425.
This citation is automatically generated and may be unreliable. Use as a guide only.
Keywords
structural health monitoring; SHM; adaptive filtering; LMS; Bouc-Wen model; damage detection; non-linear structure; computer vision; line scan camera