Investigation of Rocking Connections Designed for Damage Avoidance with High Force-to-Volume Energy Dissipation
(2008)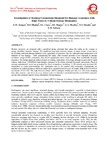 View/Open
Type of Content
Conference Contributions - Published
Publisher
University of Canterbury. Chemical and Process Engineering
University of Canterbury. Civil and Natural Resources Engineering
University of Canterbury. Electrical and Computer Engineering
University of Canterbury. Mechanical Engineering
Collections
Authors
Rodgers, G.W.,
Chase, J.G.,
Dhakal, R.P.,
Solberg, K.M.,
Macrae, G.,
Mander, J.B.,
Mander, T.J.
show all
Abstract
Modern structures are designed with a sacrificial design principle that values life safety at the expense of energy-absorbing structural damage. The significant long term economic impact of major seismic events due to the resulting structural damage demands a new generation of structures that can withstand large earthquakes with minimal or zero damage - while guaranteeing life safety. This research presents a new approach to damage avoidance design (DAD) connections that absorb significantly more seismic energy than sacrificially designed structures. The design approach utilizes hinged or rocking connections with energy absorption provided by small volume, high force (100-400kN) lead dampers designed to fit within standard structural connections. Proof of concept experimental results are presented for three connections, including: 1) 3D exterior post-tensioned RC connection; 2) corner post-tensioned RC connection; and 3) 2D exterior steel connection. Experiments are conducted on scaled specimens which are subjected to repeated reversed cycles of seismic drifts from 0.5-4.0% in increments of 0.5-1.0%. The high force-to-volume (HF2V) dampers reliably provide over 20% more damping than other systems – and do so on every motion cycle. It is therefore concluded that this novel DAD connection can provide sustained superior energy dissipation without damage.
Citation
Rodgers, G.W., Chase, J.G., Dhakal, R.P., Solberg, K.M., Macrae, G., Mander, J.B., Mander, T.J. (2008) Investigation of Rocking Connections Designed for Damage Avoidance with High Force-to-Volume Energy Dissipation. Beijing, China: 14th World Conference on Earthquake Engineering, 12-17 Oct 2008.
This citation is automatically generated and may be unreliable. Use as a guide only.
Keywords
high force-to-volume (HF2V); damage avoidance design (DAD); lead extrusion dampers; energy dissipation; precast; post-tensioned; rocking connections