Tree representations of non-symmetric, group-valued proximities
(1999)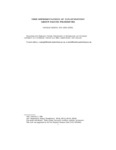 View/Open
Type of Content
Journal Article
Publisher
University of Canterbury. Mathematics and Statistics.
ISSN
0196-8858
Collections
Abstract
Let X be a finite set and let d be a function from X x X into an arbitrary group G. An example of such a function arises by taking a tree T whose vertices include X, assigning two elements of G to each edge of T (one for each orientation of the edge), and setting d(i; j) equal to the product of the elements along the directed path from i to j. We characterize conditions when an arbitrary function d can be represented in this way, and show how such a representation may be explicitly constructed. We also describe the extent to which the underlying tree and the edge weightings are unique in such a representation. These results generalize a recent theorem involving undirected edge assignments by an Abelian group. The non-Abelian bi-directed case is of particular relevance to phylogeny reconstruction in molecular biology.
Citation
Semple, C., Steel, M. (1999) Tree representations of non-symmetric, group-valued proximities. Advances in Applied Mathematics, 23, pp. 300-321.
This citation is automatically generated and may be unreliable. Use as a guide only.
Keywords
trees; groups; four-point condition; symbolic ultrametric