Inverting random functions
(1999)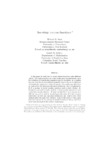 View/Open
Type of Content
Journal Article
Publisher
University of Canterbury. Mathematics and Statistics.
Collections
Authors
Steel, M.,
Szekely, L.A.
show all
Abstract
In this paper we study how to invert random functions under different criteria. The motivation for this study is phylogeny reconstruction, since the evolution of biomolecular sequences may be considered as a random function from the set of possible phylogenetic trees to the set of collections of biomolecular sequences of observed species. Our results may effect how we think about the maximum likelihood estimation (MLE) in phylogeny. MLE is optimal to invert random functions under a first criterion, although it is not optimal under another, at least equally natural but more conservative second criterion. It turns out that MLE has to be used in a different way as it is used in the phylogeny literature, if we have a prior distribution on trees and mutation mechanisms and want to keep MLE optimal under the same first criterion. Some of the results of this paper have been known in the setting of statistical decision theory, but have never been discussed in the context of phylogeny.
Citation
Steel, M., Szekely, L.A. (1999) Inverting random functions. Annals of Combinatorics, 3, pp. 103--13.
This citation is automatically generated and may be unreliable. Use as a guide only.