Tax Complexity and the Capital-Revenue Distinction - Lessons to be Learnt from Two Recent New Zealand Cases
(2007)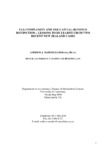 View/Open
Type of Content
Conference Contributions - Published
Publisher
University of Canterbury. Accountancy Finance and Information Systems.
Collections
Abstract
Income taxation is complex. Complexity arises due to the nature of the subject matter as well as through the expression (drafting) of tax laws. In an attempt to address the second issue the New Zealand Income Tax Act has been reorganised and is currently being rewritten in an endeavour to simplify it. Tax complexity arising from the nature of the subject matter is potentially more difficult to address. One of the areas causing complexity in this context is the capital-revenue distinction. Against this background this paper examines recent judicial trends in New Zealand as evident in two 2006 cases to ascertain what guidance they provide in this complex area. The first, a decision of the New Zealand Court of Appeal, concerned the tax treatment of legal expenses incurred by the taxpayer in unsuccessfully seeking compensation arising from alleged unlawful acts or omissions in the course of a tender process the taxpayer was involved in (Fullers Bay of Islands Ltd v CIR). The overall approach of the New Zealand High Court in this case is also very instructive. At issue in the second case, TRA Case W26, was whether expenditure incurred in earthquake strengthening a building was deductible. These cases provide guidance on a number of issues including the continuing use of the fixed and circulating capital test; the use of the accounting treatment adopted; the impact regulatory requirements have on deductibility and the manner in which work is undertaken (including the issue of deferred maintenance).
Citation
Maples, A.J. (2007) Tax Complexity and the Capital-Revenue Distinction - Lessons to be Learnt from Two Recent New Zealand Cases. Brisbane, Australia: Australasian Tax Teachers Association Conference (ATTA 2007), 22-24 Jan 2007. 34pp.
This citation is automatically generated and may be unreliable. Use as a guide only.