Making Management Accounting Learning Practical
(2008)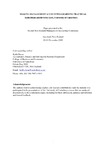 View/Open
Type of Content
Conference Contributions - Published
Publisher
University of Canterbury. Accountancy Finance and Information Systems.
Collections
Abstract
Reflecting on learning and assessment practice, and extant theories of learning; and sharing such reflections among accounting education practitioners should enable the improvement of the practices of such practitioners in order to benefit several stakeholders (e.g., learners, practitioners, stakeholders of learners' future employing organisations). Such reflection should also improve how learners perform accounting work and how they continue learning how to perform accounting work. This study draws on the experiences in a university setting for four months in 2008 of fifty learners and two learning facilitators who elected to collaborate in a course involving management accounting learning. Using data amassed through participant-observation, action research, course records, group learning and assessment outputs, assessment scripts and course evaluation questionnaires completed by students, the two facilitators analyse various aspects of the learning, including its design, structure, process, assessment and evaluation. This analysis includes matters of wicked competences in learning outcomes; implementing learner-centred learning, including group interaction; using instructional cases and case-study research articles in an active way; the two facilitators working as a team inside as well as outside the formal learning space; the facilities available for learning having to be worked around to provide formal learning space; a virtual learning environment emerging supported by Blackboard; using group assessment to award individual grades, including having group members assess each other's contributions confidentially; and using seen questions in an otherwise conventional final examination. Findings indicate that the learners had little exposure to collaborative learning before engaging in the experience on which the study focuses. The learning method in the course did not suit everyone. Those it did suit found it refreshing, and those it did not chose alternative courses, or were critical in their course evaluations. Many learners reported that the learning and its assessment inspired them to change their ways of studying. These ways had certain novelty values, opened up opportunities for networking, and were in line with things they expect to be doing when they are in practice. The study sheds some light on a series of matters with which many practitioners are grappling in the specialist area of management accounting. It has the prospect of improving learning experiences for learners and teachers of management accounting, among other subjects.
Citation
Dixon, K., Lord, B. (2008) Making Management Accounting Learning Practical. Auckland, New Zealand: Second New Zealand Management Accounting Conference 2008, 20-21 Nov 2008.
This citation is automatically generated and may be unreliable. Use as a guide only.
Keywords
Management Accounting Education