Joint Density for Eigenvalues of Two Correlated Complex Wishart Matrices: Characterization of MIMO Systems
(2007)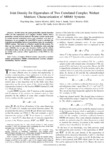 View/Open
Type of Content
Journal Article
Publisher
University of Canterbury. Electrical and Computer Engineering.
Collections
Authors
Kuo, P-H.,
Smith, P.J.,
Garth, L.M.
show all
Abstract
In this letter, the joint probability density function (PDF) for the eigenvalues of a complex Wishart matrix and a perturbed version of it are derived. The latter version can be used to model channel estimation errors and variations over time or frequency. As an example, the joint PDF is used to calculate the transition probabilities between modulation states in an adaptive MIMO system. This leads to a Markov model for the system. We then use the model to investigate the modulation state entering rates (MSER), the average stay duration (ASD), and the effects of feedback delay on the accuracy of modulation state selection in mobile radio systems. Other applications of this PDF are also discussed.
Citation
Kuo, P-H., Smith, P.J., Garth, L.M. (2007) Joint Density for Eigenvalues of Two Correlated Complex Wishart Matrices: Characterization of MIMO Systems. IEEE Transactions on Wireless Communications, 6(11), pp. 3902-3906.
This citation is automatically generated and may be unreliable. Use as a guide only.
Keywords
complex Wishart matrix; eigenvalues; random matrix perturbation; MIMO communication systems; adaptive modulation; Markov models
Rights
©2007 IEEE. Personal use of this material is permitted. However, permission to reprint/republish this material for advertising or promotional purposes or for creating new collective works for resale or redistribution to servers or lists, or to reuse any copyrighted component of this work in other works must be obtained from the IEEE.