Exact symbol error probabilities for SVD transmission of BPSK data over fading channels
(2005)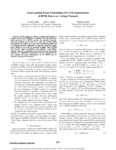 View/Open
Type of Content
Conference Contributions - Published
Publisher
University of Canterbury. Electrical and Computer Engineering.
Collections
Authors
Garth, L.M.,
Smith, P.J.,
Shafi, M.
show all
Abstract
In this paper we derive a generalized method to compute the error probabilities of singular value decompositionbased receivers for a MIMO system with uncoded transmission. The method can be used for a wide class of flat fading environments, including i.i.d. and semi-correlated Rayleigh and i.i.d. Ricean channels. Although we apply the method to equalpower BPSK, it can easily be extended to higher order M-PSK and M-QAM signal constellations and adaptive "water-filling" schemes. The error probability curves derived from closed-form formulas and simulations demonstrate very close agreement. We also compare the error performances of CI, MMSE and ZF receivers with the SVD receiver.
Citation
Garth, L.M., Smith, P.J., Shafi, M. (2005) Exact symbol error probabilities for SVD transmission of BPSK data over fading channels. Seoul, Korea: IEEE International Conference on Communications, 16-20 May 2005. Proceedings, 2271-2276.
This citation is automatically generated and may be unreliable. Use as a guide only.
Rights
©2005 IEEE. Personal use of this material is permitted. However, permission to reprint/republish this material for advertising or promotional purposes or for creating new collective works for resale or redistribution to servers or lists, or to reuse any copyrighted component of this work in other works must be obtained from the IEEE.