An approximate capacity distribution for MIMO systems
(2004)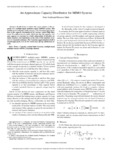 View/Open
Type of Content
Journal Article
Publisher
University of Canterbury. Electrical and Computer Engineering.
Collections
Abstract
Abstract—In this letter, we derive the exact variance of the capacity of a multiple-input multiple-output (MIMO) system. This enables an investigation of the accuracy of a Gaussian approximation to the capacity foreshadowed by various central limit theorems. We confirm recent results which state that the capacity variance appears to converge to a limit independent of absolute antenna numbers, but dependent on the ratio of the numbers of receive to transmit antennas. The Gaussian approximation itself is surprisingly good, even in the worst cases giving satisfactory results.
Citation
Smith, P., Shafi, M. (2004) An approximate capacity distribution for MIMO systems. IEEE Transactions on Communications, 52(6), pp. 887-890.
This citation is automatically generated and may be unreliable. Use as a guide only.
Keywords
capacity; central limit theorem; multiple-input multiple-output (MIMO); Rayleigh channel
Rights
©2004 IEEE. Personal use of this material is permitted. However, permission to reprint/republish this material for advertising or promotional purposes or for creating new collective works for resale or redistribution to servers or lists, or to reuse any copyrighted component of this work in other works must be obtained from the IEEE.