Capacity and Fairness of MIMO Broadcast Algorithms in Shadow Fading Environments
(2007)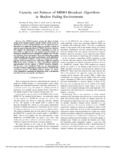 View/Open
Type of Content
Conference Contributions - Published
Publisher
University of Canterbury. Electrical and Computer Engineering.
Collections
Authors
King, T.W.,
Smith, P.J.,
Garth, L.M.
show all
Abstract
For MIMO broadcast systems the effects of shadowing on the channel capacity and the fairness of the system in sharing the resources amongst multiple users are important issues that need to be addressed. In this paper we consider a variety of capacity-approaching algorithms for MIMO broadcast channels. We compare the performance of these algorithms in terms of their ability to approach the sum-capacity and their fairness in sharing the channel resources amongst the multiple users.We also model distance-based attenuation effects and shadowing, yielding valuable insights into the relative performances of the algorithms under varying SNR conditions. Using a novel approach of mapping the broadcast channel to an "equivalent' single-user channel followed by power scaling, we derive closed-form analytical approximations for the capacity of MIMO broadcast channels. For the more evenly distributed SNR case our approximations are quite accurate, suggesting an analytical lower bound for the well known iterative waterfilling solution. Finally, our Monte Carlo simulations comparing the algorithms point to an inherent tradeoff between sum-capacity and fairness.
Citation
King, T.W., Smith, P.J., Garth, L.M. (2007) Capacity and Fairness of MIMO Broadcast Algorithms in Shadow Fading Environments. Washington, DC, USA: 2007 IEEE Global Telecommunications Conference (GLOBECOM 2007), 26-30 Nov 2007. 3617-3622.
This citation is automatically generated and may be unreliable. Use as a guide only.
Keywords
MIMO; shadowing; capacity
Rights
©2007 IEEE. Personal use of this material is permitted. However, permission to reprint/republish this material for advertising or promotional purposes or for creating new collective works for resale or redistribution to servers or lists, or to reuse any copyrighted component of this work in other works must be obtained from the IEEE.