Team role adoption and distribution in engineering project meetings
(2020)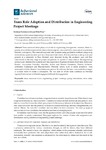 View/Open
Type of Content
Journal Article
Publisher
MDPI AG
ISSN
2076-328X
Language
English
Collections
Authors
Nestsiarovich, Kristina
Pons, Dirk J.
show all
Abstract
Team communication plays a vital role in engineering management, however, there is a paucity of work that examines how team roles emerge as a response to the communicative processes between participants. This research explored role adoption using qualitative methods comprising observations, questionnaires and semi-structured interviews. Five student teams doing final year projects at a university in New Zealand were observed during the academic year and then interviewed at the final stage of project completion. A number of team roles in the engineering context were identified for students and their supervisors: Explorer; Initiator; Facilitator; Active and Passive Information Provider; Outsider; Active and Passive Connector; Passive Collector; Arbitrator; Gatekeeper and Representative. Personal factors, such as social sensitivity, were correlated with the choice of team behaviour pattern. In addition, the team roles could be arranged in circular order to create a circumplex, the two axes of which were identified as Personal Agency/Communion and Social engagement/Social disengagement.
Citation
Nestsiarovich K., Pons D.J. Team Role Adoption and Distribution in Engineering Project Meetings. Behavioral Sciences. 10(2). 57.
This citation is automatically generated and may be unreliable. Use as a guide only.
Keywords
team communication; engineering project meetings; group interactions; team roles; circumplex
ANZSRC Fields of Research
40 - Engineering::4010 - Engineering practice and education::401003 - Engineering practice
15 - Commerce, Management, Tourism and Services::1503 - Business and Management::150305 - Human Resources Management
17 - Psychology and Cognitive Sciences::1701 - Psychology::170107 - Industrial and Organisational Psychology
35 - Commerce, management, tourism and services::3507 - Strategy, management and organisational behaviour::350710 - Organisational behaviour
Rights
© 2020 by the authors. Licensee MDPI, Basel, Switzerland. This article is an open access article distributed under the terms and conditions of the Creative Commons Attribution (CC BY) license (http://creativecommons.org/licenses/by/4.0/).
Related items
Showing items related by title, author, creator and subject.
Nestsiarovich, Kristina

;

Pons, Dirk

(

MDPI AG

,

2020

)

© 2020 by the authors. Team communication plays a vital role in engineering management, however, there is a paucity of work that examines how team roles emerge as a response to the communicative processes between participants. ...

Nestsiarovich K

;

Pons D

;

Becker S

(

MDPI AG

,

2020

)

<jats:p>Background: communication is important for project teams. There is a need to better understand how members respond to communication at project meetings, and how this affects the team roles the participants adopt. ...

Jansen, C.

(

University of Canterbury. School of Sport & Physical Education

,

2012

)